During my 2 days at Toy Fair 2009 I saw a TON of kid's stuff – doll babies, puzzles, stuffed animals and action figures, among other trinkets and accessories.
I decided to feature about a dozen products that I thought were unique or just plain cool. Here's the first installment of OWTK's Best Of NYC Toy Fair '09 Toys!
Evolvems – a brand new, totally original stuffed animal designed to bring evolutionary science to life in your child's hands. Invented by a super nice fella named Avram Kaufman, these Darwin-esque pals "evolve" before your eyes when you unzip their bellies and turn them inside out. Suddenly, your pal has traversed millions of years and, thanks to evolution and a clever toy idea, your child has a brand new animal to play with. Reverse the process to journey back in time. Not sure how Evolvems will go over in every household, afterall it'd sure be hard to explain what's inside the zipper if the Earth is only a few thousand years old. Evolvems have not yet been brought to market, but that will change in the coming months. OWTK will let you know when and where these inventive animals can be purchased. In the meantime, check out the fascinating Evolvems Blog for cool science facts and tidbits.
Global Green Pals – Cleverly named dolls, in the spirit of The Cabbage Patch Kids (Clean Air Kate, Recycle Kyle), inspire our children to think and act responsibly about the environment. Made with organic fabrics and stuffing the Global Green Pals walk the walk when it comes to our role as Earth's steward. Through their detailed back story and a yet to-be-determined web/networking component (think Webkinz with a purpose), the eco-pals help strengthen the bond between our kids and the natural world. The company behind Global Green Pals shows their dedication to the mission by donating 1% of all sales to the organization 1% For The Planet. The Global Green Pals were introduced to the world at Toy Fair 2009. As soon as they become available for purchase, OWTK will let you know.
WorryWoo Monsters – A longtime fave of the OWTK household, the WorryWoo Monsters made their Toy Fair debut this year. Andi Green and her team built one of the best "small booth" displays at the Fair. From the color coordinated carpeted dots to the huge wrap-around banners to the tiered cubes constructed to imitate the warmth of a neighborhood bookstore amidst the cavernous Toy Fair environs – the WorryWoo area was stunning…and I'm pretty sure I'm not the only one that took notice. Buy your 1st edition (and Award Winning!) WorryWoo books and adorable plush dolls today.

Lolo Games (Don't Make Me Laugh Jr./Run Around Fractions) – Lolo Games president Charlie Paul was at Toy Fair to feature his new game of giving called The Santa Game. A clever concept in a materialistic world – to win this game you must give away everything you start with. While I appreciate the idea behind The Santa Game, what really struck me were 2 other Lolo Games perfect for a recessionary world in which family game night could (and should) make a strong comeback.
The Don't Make Me Laugh Jr. Board Game
is a hilarious way to bring the family together and have them chuckling all night. Game cards ask the players to act out a variety of improvisational movements (pretend to play tennis, act like a sprinkler, etc). Don't Make Me Laugh Jr. (also available in Sr. format) is the ideal answer to a family's question of how to spend an inexpensive, yet fun night at home in these tough economic times.
The other Lolo game that interested me is Run Around Fractions. This interactive math game has both indoor and outdoor activities and can be played solo or in large groups. I love teaching math to the Bear and will be picking this one up myself for outdoor, active learning this Spring/Summer.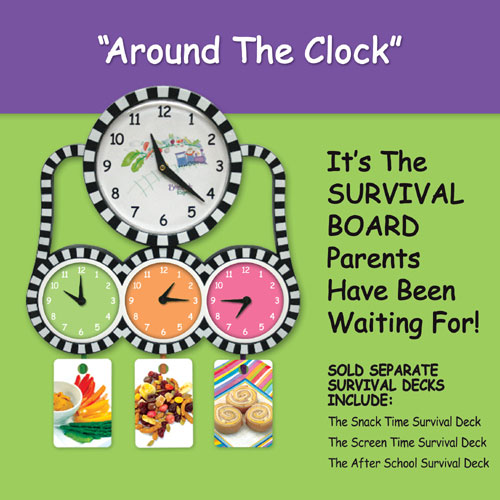 Around The Clock – This product, from Beanstalk Express, was one of the more unique at the Fair. There is a big clock with the actual time positioned above 3 manually operated clocks, and beneath each of those 3 is a hook. On those hooks, parents place a card from one of 3 "Survival Decks" focusing on the sometimes-hard-to-manage kiddie goodies – Screen Time, Snack Time and After School Activities. Around The Clock seeks to make parenting easier by making children choose their desired treats for the day and allowing us as Moms & Dads set the time in which they can be enjoyed. Seems like a tremendously useful tool to initiate dialogue with a child about making choices in life and healthy eating while instilling personal responsibility (an attribute missing from so many people in today's society). Around The Clock is not yet in stores, but will be soon! Stay tuned to OWTK for more information in the months to come.