Just two games left in the American in Paris region. Today we have an all-NYC affair as the #2 seed Astrograss and their newest release "Let Me Stay Up All Night" does battle with the 5th seeded Bari Koral Rock Band.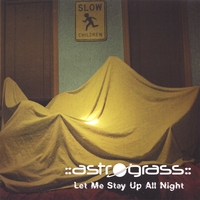 (2) Astrograss "Let Me Stay Up All Night"


Astrograss is incredibly intriguing. From the decidedly modern logo/font they use for their band name to their clever, very indie-looking (if that makes any sense) album art they do not appear on the surface to be a straight-up bluegrass band.
But truth be told, despite their modern look and feel, Astrograss would sound more at home gigging outside of the Boone, North Carolina General Store then the rock clubs of Manhattan. While Astrograss
toe the line between kiddie and adult music (in fact, on the surface it is not 100% clear that this new record, their 2
nd full length, is indeed meant as a "children's" album) their sound is universally appealing to all people – big and small. Their take on "Drunken Sailor" is superbly cool as is the Celtic vibe of the title track and "Irish Ice Cream" – the best song of the bunch. "Let Me Stay Up All Night" is a highly original kid's album but I feel as though the recording doesn't do Astrograss' sound justice. Much like my beloved hometown rock heroes Dr. Dog and their friends Hoots and Hellmouth – the studio recording falls short in the energy department and the CD proves incapable of capturing the live show experience (keep in mind this is just a hunch as I haven't seen Astrograss live…but I'd love to as I imagine a very upbeat and slightly raucous affair.)

Sample all the tracks from their CD Baby page…heck, why not buy the record while your there!
Check out their Astrograss for Kids site and a live video.
vs.
(5) Bari Koral Family Rock Band s/t EP
What would Norah Jones sound like if she decided to up the tempo a bit and make music geared towards young people? My guess is that she would probably emulate the music The Bari Koral Family Rock Band is making right now. What a lovely original six song effort from this college rock veteran who at one time was considered a peer of Jeff Buckley, Joan Osborne and even Norah Jones. Unlike many kid's acts, Bari has no children of her own but rather soaked up inspiration for the family rock concept from her six year old niece. Bari's voice is serene and soulful while the rootsy music seems effortless and classic in nature. The final track "I Wanna Play in a Rock and Roll Band" is terrific as is the hand-clapping splendor of "A Day At The Beach". The music on this six song CD is anything but corny (despite the questionable cover art) and certainly isn't your typical kiddie rock record (the same can surely be said for Astrograss making this such a cool pairing, don't ya think?)
Your gang will,
without a doubt,
be rockin' and groovin' to the Bari Koral Family Rock Band.
Listen to samples here or on the band's Myspace page.
Vote for either Astrograss or Bari Koral by midnight ET on Friday 3/28. Your comments will help decide the winner. Everyone that leaves a comment during the Tournament will have a chance to win the Final Four CDs. Comment on as many "games" as you wish, including the "Very Helpful Songs" vs. "Mr. Oscat Says…", Thaddeus Rex vs. Gunnar Madsen and Brady Rymer vs. Stardust Lullaby contests and increase your odds of winning. Thanks!